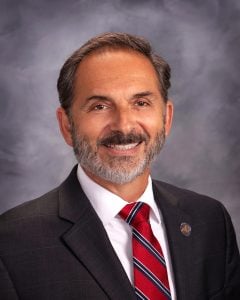 State Rep. Dave Yaccarino proudly represents the 87th General Assembly District, which encompasses North Haven. He was re-elected to serve a sixth term in November 2020. He was appointed a leadership position as House Republican Senior Whip, and will serve on the legislature's committee on Finance, Revenue and Bonding, Screening, Commerce, as well as Executive and Legislative Nominations.
A life-long North Haven resident, Yaccarino has owned DJ's Cards and Comics located at 1 Lincoln Street, North Haven, CT for 27 years.
Yaccarino is an active member of the community where he served as a 16-year volunteer for the Boy Scouts and Co-Founder of Boy Scout Troop 811. He also coached Max Sinoway Baseball and North Haven Girls Softball. Yaccarino volunteered for Saint Francis Cabrini Church and is a Member of the Mens Club. He worked as a Youth group mentor and also lent a helping hand to adults with special needs, emergency shelters and soup kitchens.
Yaccarino is a member of the North Haven Republican Town Committee, Co-Chair of Connecticut Veterans Hall of Fame and a former member of the U.S. Navy Reserve. He has an Associate Degree in Liberal Sciences from Gateway Community College where he is inducted into the Hall of Fame and taught a U.S. History course.
Yaccarino has three adult children: David, Joseph and Carolyn.