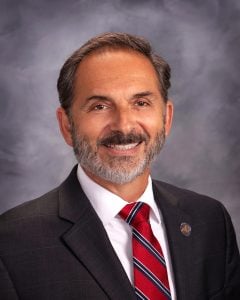 State Rep. Dave Yaccarino proudly represents the 87th General Assembly District, which encompasses North Haven. He was re-elected to serve a seventh term in November 2022. He was appointed a leadership position as House Republican Senior Whip, and will serve as Ranking Member of the legislature's Executive and Legislative Nominations Committee. Additionally, Rep. Yaccarino will serve on the General Law, Finance, Labor, Internship, and House Republican Screening Committees.
A life-long North Haven resident, Yaccarino has owned DJ's Cards and Comics located at 1 Lincoln Street, North Haven, CT for 27 years.
Yaccarino is an active member of the community where he served as a 16-year volunteer for the Boy Scouts and Co-Founder of Boy Scout Troop 811. He also coached Max Sinoway Baseball and North Haven Girls Softball. Yaccarino volunteered for Saint Francis Cabrini Church and is a Member of the Mens Club. He worked as a Youth group mentor and also lent a helping hand to adults with special needs, emergency shelters and soup kitchens.
Yaccarino is a member of the North Haven Republican Town Committee, Co-Chair of Connecticut Veterans Hall of Fame and a former member of the U.S. Navy Reserve. He has an Associate Degree in Liberal Sciences from Gateway Community College where he is inducted into the Hall of Fame and taught a U.S. History course.
Yaccarino has three adult children: David, Joseph and Carolyn.