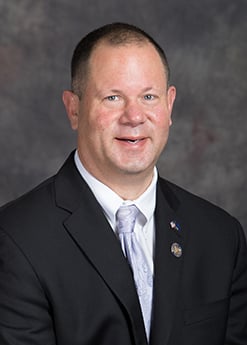 Craig Fishbein was first elected to the House of Representatives during a special election to fill a vacant seat in November 2016, and was also elected to his first full term on the same day.
Representative Fishbein will serve on the legislature's Judiciary, Public Safety and Security and Labor Committees for the 2019-2020 session.
Previously, he served on the Energy and Technology and Commerce Committees.
Representative Fishbein attended Wallingford schools and graduated from Mark T. Sheehan High School in 1983 before briefly attending Southern Connecticut State University.  Representative Fishbein left school to focus on his career and successfully worked in retail management for large, national retailers for more than a decade before enrolling at Quinnipiac College to finish his degree.
While working as an overnight crew manager for BJ's Wholesale Club in Fairfield, CT, Representative Fishbein attended school full-time and completed his degree from Quinnipiac University, where he graduated cum laude with a Bachelor's degree in marketing. Upon completion of his degree, he was offered a partial scholarship to attend the Quinnipiac University School of Law.
During law school, Representative Fishbein worked full-time as a clerk at the New Britain Superior Court and upon graduation in 2001 passed the Connecticut Bar.  In July of 2002, Representative Fishbein joined his father, Norman, at Fishbein Law Firm, LLC, in Wallingford, where he continues to practice law primarily devoted to civil litigation in Connecticut's state and federal courts.  In 2005, he became licensed to practice before the United States Supreme Court.
Representative Fishbein has been an active member of the Wallingford Rotary Club since 2005 and served as Club President for the 2009-10 term. Representative Fishbein said he is proud of Rotary's commitment to the people of Wallingford and the surrounding area, especially the annual Dictionary and Thesaurus Project that provides a free dictionary for every third grader and a free thesaurus to every fifth grader in Wallingford.
A member of the Wallingford Town Council since January of 2010, Representative Fishbein has consistently sought out differing opinions and engaged in hours of personal research on important issues before making a decision.  As such, he says there is hardly a decision he has made in the Town Council Chambers he would have handled differently. A proponent of small government, Representative Fishbein has never voted for a tax increase during his time on the Town Council.
In 2012, Representative Fishbein was appointed to serve on the State of Connecticut's Board of Firearms Permit Examiners (BFPE), and served as Vice-Chairman and Secretary.  Representative Fishbein resigned his positon on the BFPE before taking the oath of office for State Representative.
A lifelong fan of the Boston Red Sox, New York Giants and New York Rangers, many people will say he bleeds "Ranger Blue." Representative Fishbein and his wife Rhonda have been married for 26 years.  He has two brothers, one sister, and eight nieces and nephews.